On February 22nd 2010 UTC a swarm of 24 earthquakes occurred on the south western flanks of Mt. Tihia. The swarm lasted 4 1/2 hrs between 05:01 and 9:33 UTC, with depths between 3km and 13km.
The deepest quake, the 1.988ML, was the most southern close to Lake Rotoaira.
No quakes were reported as felt.
REF, LAT, LONG, TIME, DEPTH, MAG
3265148, -38.99449, 175.68233, 2010/02/22 05:01:32.9, 5, 1.796
3265163, -39.00175, 175.69377, 2010/02/22 05:38:14.8, 5, 1.923
3265165, -38.99889, 175.70511, 2010/02/22 05:41:06.4, 5, 2.39
3265166, -38.99525, 175.69739, 2010/02/22 05:43:55.9, 5, 1.946
3265169, -38.9939, 175.69452, 2010/02/22 05:48:30.5, 8, 1.786
3265170, -38.99178, 175.70198, 2010/02/22 05:50:42.4, 5, 2.239
3265171, -38.99508, 175.70407, 2010/02/22 05:52:01.5, 6, 1.977
3265173, -38.99487, 175.70294, 2010/02/22 05:55:41.3, 3, 2.194
3265176, -39.01088, 175.71043, 2010/02/22 06:00:50.4, 13, 1.988
3265178, -38.99535, 175.70566, 2010/02/22 06:02:42.7, 5, 2.09
3265181, -38.99114, 175.67416, 2010/02/22 06:07:45.8, 4, 1.812
3265189, -38.99795, 175.6861, 2010/02/22 06:21:47.7, 6, 2.356
3265190, -38.99883, 175.68454, 2010/02/22 06:21:48.0, 5, 2.311
3265191, -38.99562, 175.67616, 2010/02/22 06:24:14.5, 5, 1.831
3265194, -38.99378, 175.69237, 2010/02/22 06:29:05.8, 6, 2.19
3265197, -38.99713, 175.6765, 2010/02/22 06:36:19.8, 3, 1.901
3265206, -39.00442, 175.69917, 2010/02/22 06:55:24.0, 5, 1.85
3265207, -39.00014, 175.69781, 2010/02/22 06:57:36.6, 5, 1.711
3265209, -39.00245, 175.69524, 2010/02/22 07:00:24.7, 6, 1.814
3265216, -39.00209, 175.69505, 2010/02/22 07:14:54.7, 6, 1.722
3265243, -38.99546, 175.68581, 2010/02/22 08:31:16.7, 5, 1.772
3265247, -38.99647, 175.68907, 2010/02/22 08:39:20.7, 5, 1.83
3265268, -38.99186, 175.68385, 2010/02/22 09:30:59.9, 7, 1.766
3265270, -38.99895, 175.68947, 2010/02/22 09:33:23.3, 6, 1.548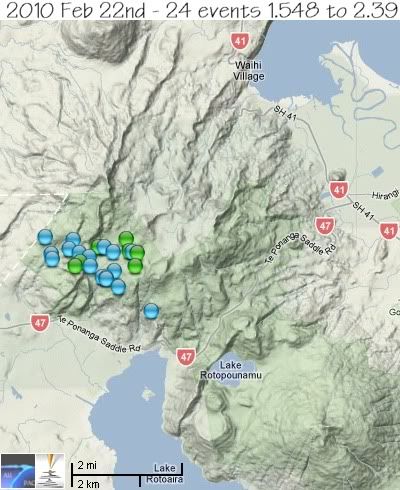 data by geonet. map by google maps. plots by highace using GPS Visualizer