This Fiordland earthquake caused power outages in several parts of the South Island and only minor damage. Reported damage includes a broken water main at Winton, cracks in exterior walls of buildings at Invercargill and items falling from shelves throughout the Southland region. Several small landslides were also reported.
Measurements indicate a geographic shift to the west towards Australia of 30.5 cm of the southern tip of the South Island. Felt (VI) at Te Anau and Tuatapere; (V) at Arrowtown, Edendale, Lumsden and Winton; (IV) at Bluff, Gore, Invercargill,Outram, Queenstown and Wanaka. It was felt throughout the South Island, and also the lower North Island and as far away as eastern Australia.
A tsunami with wave heights (peak-to-trough) was recorded at the following stations: 100cm at Jackson Bay; 25cm at Charleston; 12cm at Dog Island, New Zealand; 14cm at Port Kembla, Australia and 6cm at Spring Bay, Australia.
The thrust earthquake occurred near the southern tip of South Island in a region known as Fiordland, in a complex area of transition in plate boundary structure from Puysegur subduction to Alpine fault strike-slip motion. The preliminary location, depth, and estimate of fault orientation of this event are consistent with the earthquake having resulted from slip on the subduction thrust interface between the Pacific and Australian plates. The deformed Australian plate beneath Fiordland is highly active both along its' interface with the Pacific plate and internal to the subducted Australian plate. Over the past two decades, several large earthquakes have occurred in Fiordland, predominantly in a cluster to the northeast of today's earthquake. Though the faulting mechanisms of those events are similar to the 15th July earthquake, their slip vectors are rotated clockwise with respect to plate motions, and thus may not represent exactly the same style of faulting.
The most recent of these previous large events occurred on
August 21st 2003
when a magnitude 7.2 Mw earthquake approximately 100 km to the northwest caused minor damage in Otago and Southland, and numerous landslides across the Fiordland region. A magnitude 6.7 event on
August 10, 1993
caused power outages in the Te Anau area and was felt throughout South Island and as far away as Sydney, Australia. A magnitude 6.1 earthquake struck on
May 31, 1989
and was felt strongly in the southwestern part of South Island and a magnitude 6.7 quake struck on
3rd June 1988
near Charles Sound.
The following data has been updated 1st October 2009.
Earthquakes in the area 7 days prior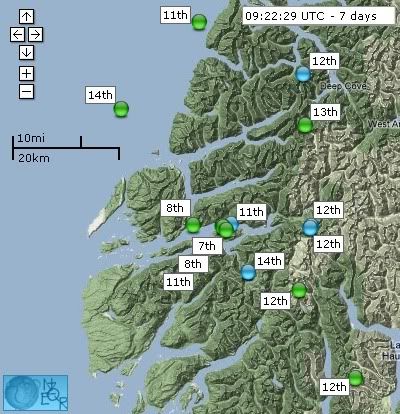 REF, LAT, LONG, TIME, DEPTH, MAG
3120825, -45.7197, 166.8159, 2009/07/07 19:29:30.6, 5, 2.433
3127339, -45.7277, 166.8267, 2009/07/08 00:49:48.4, 5, 2.494
3121407, -45.7184, 166.7364, 2009/07/08 22:13:55.8, 5, 2.31
3122645, -45.7152, 166.8399, 2009/07/11 06:27:57.5, 5, 1.606
3122818, -45.3267, 166.7532, 2009/07/11 14:04:20.0, 21, 2.415
3122854, -45.7208, 166.8201, 2009/07/11 15:46:45.2, 5, 2.379
3123100, -45.7228, 167.057, 2009/07/12 02:40:35.4, 5, 1.88
3123261, -46.0097, 167.1815, 2009/07/12 10:16:15.1, 5, 2.173
3130257, -45.7199, 167.0615, 2009/07/12 12:22:52.1, 5, 1.839
3123436, -45.843, 167.027, 2009/07/12 17:14:47.9, 88, 2.102
3130641, -45.4279, 167.0393, 2009/07/12 18:34:40.9, 73, 1.809
3123934, -45.5258, 167.0446, 2009/07/13 15:42:31.9, 70, 2.285
3124109, -45.8082, 166.8873, 2009/07/14 00:56:01.4, 5, 1.67
3124450, -45.494, 166.5388, 2009/07/14 17:33:17.1, 5, 2.479
Main earthquake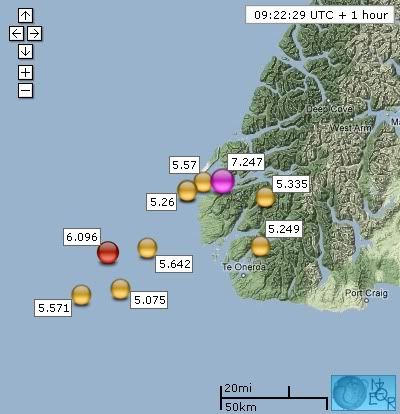 REF, LAT, LONG, TIME, DEPTH, MAG
3124785, -45.76491, 166.57045, 2009/07/15 09:22:29.0, 12, 7.247ML (MW 7.8 , mb 6.5, MS 7.7, ME 7.3 )
Aftershocks
(next 1hr period data)
REF, LAT, LONG, TIME, DEPTH, MAG
3128974, -46.01587, 166.15349, 2009/07/15 09:25:19.7, 12, 5.642
3130290, -45.79455, 166.36958, 2009/07/15 09:26:16.8, 12, 5.345
3130305, -45.79725, 166.373, 2009/07/15 09:26:50.7, 12, 5.26
3130312, -46.00957, 166.77263, 2009/07/15 09:27:45.7, 12, 5.249
3129439, -45.81995, 166.80135, 2009/07/15 09:29:07.0, 12, 5.335
3124792, -46.03566, 165.93748, 2009/07/15 09:41:53.8, 12, 6.096
3124795, -46.19619, 165.79095, 2009/07/15 09:52:16.5, 13, 5.571
3124798, -45.76283, 166.4595, 2009/07/15 10:01:49.7, 5, 5.57
3124807, -46.17328, 166.00424, 2009/07/15 10:21:33.8, 19, 5.075
total aftershocks 1 -
15 hours after event
– to midnight 15.09.2009 UTC
40 new events
REF, LAT, LONG, TIME, DEPTH, MAG
3124810, -45.5897, 166.7478, 2009/07/15 10:32:46.4, 12, 4.759
3124816, -45.9567, 166.5181, 2009/07/15 10:51:34.0, 12, 4.427
3124826, -45.4759, 166.8267, 2009/07/15 11:21:55.6, 13, 4.761
3124828, -46.159, 166.9816, 2009/07/15 11:31:29.7, 12, 4.786
3124831, -45.4378, 166.5178, 2009/07/15 11:44:13.6, 12, 5.174
3124834, -45.8948, 167.002, 2009/07/15 11:49:42.0, 5, 4.9
3124841, -45.5377, 166.6243, 2009/07/15 12:09:25.1, 4, 4.703
3124853, -45.9617, 167.045, 2009/07/15 12:48:38.9, 5, 3.913
3124859, -46.0095, 166.2618, 2009/07/15 13:08:42.9, 19, 3.678
3124863, -45.473, 166.5912, 2009/07/15 13:27:48.1, 5, 4.168
3124866, -45.8502, 165.6878, 2009/07/15 13:35:55.3, 5, 4.952
3124868, -45.4562, 166.8802, 2009/07/15 13:42:48.1, 5, 4.396
3124869, -45.4047, 166.4976, 2009/07/15 13:50:38.1, 5, 5.943
3124871, -45.4597, 166.6211, 2009/07/15 13:50:39.6, 5, 5.436
3124878, -46.2777, 166.267, 2009/07/15 14:15:27.6, 177, 5.156
3124894, -45.5756, 166.5868, 2009/07/15 15:07:39.3, 12, 4.062
3124898, -45.4924, 165.7633, 2009/07/15 15:16:22.1, 33, 4.389
3124900, -46.1841, 166.039, 2009/07/15 15:29:35.3, 24, 4.234
3124905, -46.0169, 165.983, 2009/07/15 15:37:52.2, 12, 3.823
3124918, -45.4622, 166.6368, 2009/07/15 16:17:29.9, 5, 4.612
3125113, -45.5342, 166.5746, 2009/07/15 16:19:26.4, 12, 4.881
3124929, -45.8087, 166.3186, 2009/07/15 16:51:21.0, 12, 4.67
3124930, -45.5801, 166.6914, 2009/07/15 16:55:15.2, 12, 4.545
3124934, -45.4579, 166.3095, 2009/07/15 17:12:10.1, 5, 3.987
3124976, -45.8027, 166.6246, 2009/07/15 19:27:51.8, 5, 4.556
3124983, -46.186, 166.8639, 2009/07/15 19:44:28.1, 12, 4.235
3124997, -45.4504, 166.6408, 2009/07/15 20:22:20.1, 5, 4.827
3125006, -46.2297, 165.9042, 2009/07/15 20:45:24.4, 12, 4.817
3125010, -45.8598, 166.2414, 2009/07/15 20:59:27.1, 5, 4.544
3125012, -46.0363, 166.0871, 2009/07/15 21:08:54.5, 12, 3.886
3125018, -46.075, 166.0148, 2009/07/15 21:28:33.0, 13, 3.436
3125022, -46.5327, 165.955, 2009/07/15 21:36:01.0, 12, 5.38
3125050, -46.1827, 166.0773, 2009/07/15 22:57:56.3, 22, 4.261
3125055, -45.6237, 166.6411, 2009/07/15 23:14:26.8, 12, 4.746
3125058, -46.2092, 165.9099, 2009/07/15 23:27:45.3, 12, 3.452
3131919, -46.4319, 166.3935, 2009/07/15 23:28:35.0, 12, 3.521
3131924, -46.2821, 165.8691, 2009/07/15 23:30:25.4, 12, 4.244
3131927, -45.9663, 166.1173, 2009/07/15 23:32:22.3, 22, 3.385
3131932, -45.5196, 166.7031, 2009/07/15 23:35:33.7, 5, 3.204
3125061, -45.5214, 167.0335, 2009/07/15 23:41:20.7, 65, 5.077
total aftershocks 1-
24 hours after main event
– to 09:01:08.6 on the 16th July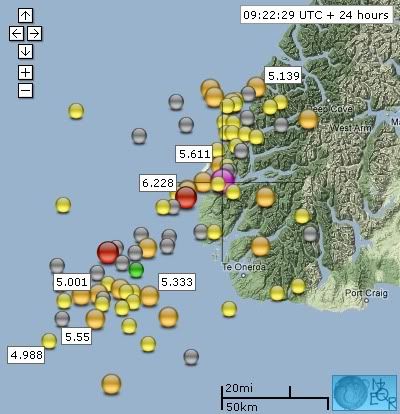 33 new events
REF, LAT, LONG, TIME, DEPTH, MAG
3125068, -46.3811, 166.1576, 2009/07/16 00:00:10.8, 5, 4.364
3125075, -45.6402, 166.5346, 2009/07/16 00:19:10.2, 12, 4.346
3128312, -46.2487, 166.6038, 2009/07/16 00:20:54.1, 5, 4.103
3125077, -46.1981, 166.1608, 2009/07/16 00:24:07.0, 5, 5.333
3125082, -46.1905, 165.8821, 2009/07/16 00:39:11.6, 12, 5.001
3125083, -46.2877, 165.8666, 2009/07/16 00:44:46.5, 5, 5.55
3125086, -46.223, 166.0755, 2009/07/16 00:54:13.0, 12, 4.03
3125087, -45.9723, 166.2712, 2009/07/16 00:57:19.6, 17, 3.539
3125088, -46.3116, 166.0545, 2009/07/16 01:01:29.7, 12, 4.295
3125089, -45.6442, 166.6673, 2009/07/16 01:05:19.7, 5, 3.34
3125111, -45.7702, 166.5438, 2009/07/16 02:07:33.1, 5, 4.861
3125112, -45.4002, 166.75, 2009/07/16 02:13:09.9, 12, 5.139
3125133, -46.3703, 165.6132, 2009/07/16 03:19:08.5, 12, 4.988
3125143, -45.424, 166.7038, 2009/07/16 03:52:03.8, 13, 3.282
3125179, -45.7037, 166.5902, 2009/07/16 05:35:55.6, 12, 4.72
3125184, -46.2457, 166.0143, 2009/07/16 05:47:56.2, 16, 4.777
3125189, -45.8586, 166.2963, 2009/07/16 06:02:17.6, 12, 3.295
3125190, -46.1013, 166.0915, 2009/07/16 06:05:26.2, 12, 2.901
3125197, -46.2881, 165.6836, 2009/07/16 06:18:58.2, 104, 3.79
3125200, -45.7017, 166.5508, 2009/07/16 06:30:01.2, 5, 5.611
3125201, -45.8236, 166.3652, 2009/07/16 06:30:01.4, 128, 6.228
3125217, -46.1535, 165.9364, 2009/07/16 07:16:32.2, 12, 4.63
3125220, -45.5465, 166.3644, 2009/07/16 07:25:17.8, 5, 3.401
3125224, -46.0835, 165.6546, 2009/07/16 07:32:59.1, 12, 3.383
3125484, -45.9562, 166.4482, 2009/07/16 07:39:44.7, 12, 3.452
3125486, -45.723, 166.5938, 2009/07/16 07:40:51.5, 5, 3.679
3125235, -45.722, 166.6102, 2009/07/16 08:09:24.1, 5, 3.766
3125491, -46.2179, 165.6966, 2009/07/16 08:10:27.1, 12, 4.112
3125237, -45.5439, 166.8878, 2009/07/16 08:15:38.9, 12, 3.777
3125238, -46.1513, 165.6725, 2009/07/16 08:21:37.8, 12, 4.382
3125241, -45.5771, 166.6162, 2009/07/16 08:28:57.5, 4, 4.695
3125242, -45.5865, 166.1062, 2009/07/16 08:33:20.0, 12, 3.876
3125250, -46.1098, 165.8763, 2009/07/16 09:01:08.6, 20, 3.5