There were no earthquakes recorded in the Rotoaira/Rotpounamu area covered by this category/search area. Technology at the time was limited to recording quakes above 2.5ML, and judging by the patterened locations of magnitude 3+ events the location co-ordinates were not pinpointed all that accurately anyway.
I have created this map which shows the events larger than 4.0 ML magnitude for the period just outside Rotoaira/Rotopounamu, in a radius approx. 15km from the summit of Mt Tihia.
Only the 5+ quakes are listed.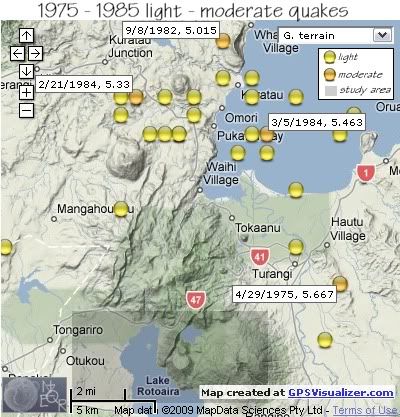 REF, LAT, LONG, TIME, DEPTH, MAG
1556524, -39, 175.84, 1975/04/29 15:20:14.9, 131, 5.667
1556735, -38.68, 175.83, 1975/08/18 14:31:39.8, 152, 5.567
1558130, -38.65, 175.96001, 1976/12/10 05:10:18.4, 174, 5.22
1563264, -38.87, 175.75999, 1982/09/08 17:21:06.6, 0, 5.015
1564997, -38.9, 175.7, 1984/02/21 08:23:40.7, 8, 5.33
1565038, -38.92, 175.78999, 1984/03/05 02:07:17.6, 5, 5.463
data by geonet. map by google maps. plots by highace using GPS Visualizer