In 1992 there were 25 earthquakes in the Rotoaira/Rotopounamu area.
The first significant earthquake swarm ever recorded in the area started on
29th April
and carried on through
to the 5th May
, with 21 events from 1.129 to 2.971. The spread of the swarm was from north west of Mangatipua Stream in an arc up towards the base of Mt. Tihia and across the Te Ponanga Saddle to Lake Rotopounamu. During the swarm there was one isolated quake at the southern base of Mt. Pihnga, a 2.865 ML which was also the deepest quake in 1992 at a depth of 162km (marked on the map as a magenta coloured orb).
The largest quake in 1992 was not part of the swarm, a 3.062 on the
7th January
at 05:15:48.8 UTC, located midway along the Wairehu Canal between Lake Rotoaira and Lake Otamangakau. (marked on the map as a grey coloured orb)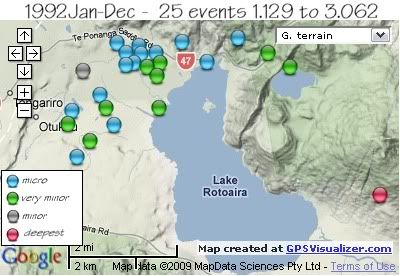 REF, LAT, LONG, TIME, DEPTH, MAG
299805, -39.0236, 175.66611, 1992/02/07 05:15:48.8, 5, 3.062
324234, -39.01902, 175.72978, 1992/04/26 03:47:30.9, 11, 2.342
327418, -39.02513, 175.6915, 1992/04/29 04:44:28.8, 5, 2.22
328291, -39.03015, 175.67206, 1992/04/29 04:48:46.2, 5, 1.761
328294, -39.03432, 175.6624, 1992/04/29 04:53:47.8, 5, 1.699
328295, -39.03815, 175.677, 1992/04/29 04:59:27.9, 5, 1.129
328300, -39.03363, 175.67418, 1992/04/29 05:48:29.2, 5, 2.971
328312, -39.0216, 175.68364, 1992/04/29 07:07:55.9, 5, 1.532
330940, -39.02167, 175.69261, 1992/04/29 07:14:19.9, 5, 2.404
328315, -39.01883, 175.68108, 1992/04/29 07:18:05.6, 5, 1.538
330943, -39.02275, 175.68829, 1992/04/29 08:31:43.4, 5, 2.374
328341, -39.02221, 175.68088, 1992/04/29 12:03:04.9, 5, 1.781
328352, -39.01917, 175.6862, 1992/04/29 16:02:56.5, 5, 1.78
331280, -39.01621, 175.67789, 1992/04/29 17:02:32.5, 5, 1.239
328386, -39.0214, 175.70891, 1992/04/30 09:18:02.7, 5, 1.582
326565, -39.03775, 175.66115, 1992/04/30 10:27:43.0, 5, 2.128
328388, -39.01502, 175.71938, 1992/04/30 10:44:42.5, 5, 1.559
332030, -39.0568, 175.76836, 1992/05/01 10:07:58.9, 162, 2.865
328419, -39.01594, 175.70006, 1992/05/01 18:46:08.7, 5, 1.811
332034, -39.03352, 175.6924, 1992/05/02 02:26:09.5, 5, 2.601
328037, -39.04249, 175.66858, 1992/05/05 15:43:15.2, 12, 2.426
330356, -39.02277, 175.73714, 1992/05/05 15:46:12.5, 23, 2.262
330357, -39.01891, 175.69135, 1992/05/05 15:47:54.8, 13, 1.729
372103, -39.01703, 175.68542, 1992/09/24 17:40:13.7, 12, 1.345
377829, -39.04677, 175.66429, 1992/10/15 16:23:55.8, 5, 1.682
data by geonet. map by google maps. plots by highace using GPS Visualizer