1987 has 6 events shown in the NZ Earthquake Catalogue, as follows;
REF, LAT, LONG, TIME, DEPTH, MAG
3886, -39.00062, 175.7141, 1987/01/27 20:29:52.1, 13, 3.324

*


3748, -38.9565, 175.73206, 1987/01/28 00:00:32.9, 12, 3.622

*


51330, -38.99681, 175.72377, 1987/05/20 02:18:01.2, 5, 2.432
51616, -39.0068, 175.73149, 1987/05/20 02:35:45.7, 2, 1.932
80581, -39.01381, 175.72992, 1987/10/14 10:35:20.3, 127, 3.683
94209, -38.95294, 175.75381, 1987/12/17 04:14:19.7, 5, 3.428
The following map and data on a swarm in 1987 is taken from a paper presented by Steven Sherburn and published in the New Zealand Journal of Geology and Geophysics 1993 Vol 36:61-68, entitled "The 1987 January Tokaanu earthquake sequence, New Zealand".
"The 1987 Tokaanu earthquake sequence started at 1987 Jan 27 1923 UTC, and continued until Jan 28 0215 UTC, a duration of almost 7 hours. The largest earthquake in the sequence was 3.6ML Sixty-four earthquakes were recorded on the nearest seismograph during the sequence, and 26 of these were located (shown on maps below). The epicentres were centred 1-2 km northwest of the Tokaanu Power Station, at the northeastern foot of Kakaramea, and about 1-2 km east of the Waihi Fault "
The digital data used in this study come from the Taupo Seismic Network. The nearest seismograph was 12 km away from the centre of the sequence.
Details of the 28 earthquakes from the Tokaanu sequence for which digital waveform data were available.
Earthquakes numbered 4 and 9 were not located.
Those marked with an asterisk are a close match to those on the NZ Catalogue based on the size and approx. time, although the exact depth and location are slightly different.
REF, LAT, LONG, TIME, DEPTH, MAG
1, -38.975, 175.757, 1987/01/27 19:25:28.2, 5, 2.7
2, -38.979, 175.758, 1987/01/27 19:26:35.0, 5, 2.7
3, -38.974, 175.763, 1987/01/27 19:28:45.3, 5, 2.7
4, unlocated, 1987/01/27 19:29:00.0, , 2.5
5, -38.974, 175.765, 1987/01/27 19:30:58.6, 5, 2.8
6, -38.974, 175.757, 1987/01/27 19:32:15.4, 7.7, 2.7
7, -38.968, 175.761, 1987/01/27 19:35:37.9, 5, 3.1
8, -38.976, 175.756, 1987/01/27 19:45:12.9, 5, 2.8
4, unlocated, 1987/01/27 19:46:00.0, , 2.9
10, -38.971, 175.739, 1987/01/27 20:04:54.8, 5, 3.2
11, -38.961, 175.753, 1987/01/27 20:06:09.6, 5, 2.5
12, -38.975, 175.765, 1987/01/27 20:07:08.6, 5, 2.6
13, -38.969, 175.760, 1987/01/27 20:07:35.1, 3.2, 2.4
14, -38.976, 175.765, 1987/01/27 20:08:49.1, 5, 2.6
15, -38.963, 175.758, 1987/01/27 20:10:44.9, 5, 2.1
16, -38.968, 175.756, 1987/01/27 20:14:09.6, 3.7, 2.7
17, -38.981, 175.756, 1987/01/27 20:30:07.6, 5, 3.3

*


18, -38.968, 175.759, 1987/01/27 20:31:34.0, 3.6, 2.7
19, -38.976, 175.762, 1987/01/27 20:31:42.6, 5, 2.1
20, -38.961, 175.749, 1987/01/27 21:13:03.7, 5, 2.3
21, -38.971, 175.759, 1987/01/27 21:17:25.0, 5, 3.2
22, -38.974, 175.759, 1987/01/27 21:19:04.7, 4.6, 3.3
23, -38.970, 175.751, 1987/01/27 21:22:03.7, 5, 2.2
24, -38.963, 175.748, 1987/01/27 21:23:07.6, 7.2, 3.2
25, -38.970, 175.753, 1987/01/28 00:00:49.7, 5, 3.6
26, -38.965, 175.752, 1987/01/28 00:07:49.0, 5, 2.3

*


27, -38.976, 175.757, 1987/01/28 00:14:30.1, 5, 3.2
28, -38.971, 175.748, 1987/01/28 01:24:23.0, 5, 3.2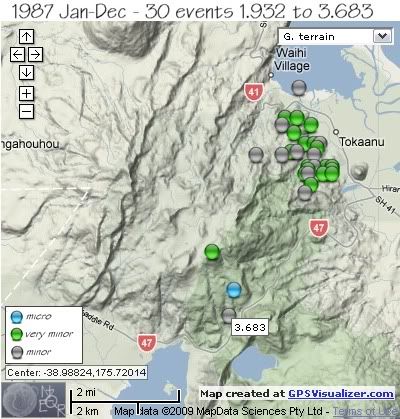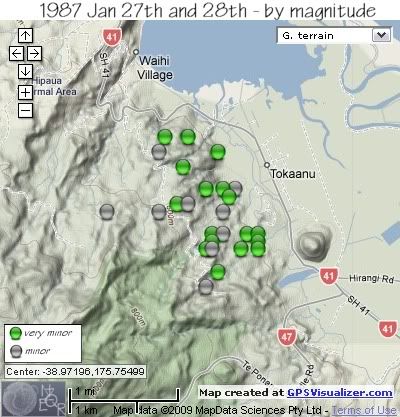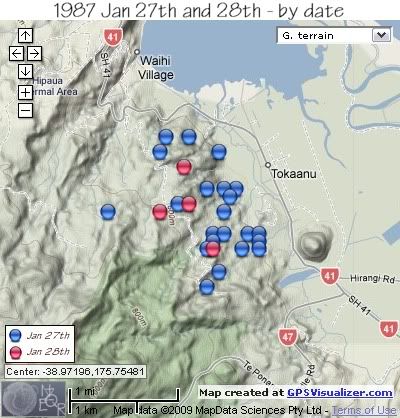 data by geonet. map by google maps. plots by highace using GPS Visualizer