From January 1st 1988 to December 31st 1989 there were 12 earthquake events in the Mt. Tihia/Tokaanu area , 7 of them deeper than 156km.
Apart from two events on
October 25th 1989
, 20 minutes apart, the rest were scattered both on location and dates.
In 1988 the 5 earthquakes were on the Mt.Tihia side of the area, whereas in 1989 the 7 quakes were widespread. The largest quake in 2 years was the 4.295ML, located 80km deep at the base of Mt. Kuharua.
1988
REF. LAT, LONG, TIME, DEPTH, MAG
8460, -39.00349, 175.72081, 1988/02/02 04:30:50.6, 156, 3.232
25161, -38.95543, 175.77148, 1988/09/19 03:56:06.9, 179, 2.985
30178, -38.98078, 175.74553, 1988/11/17 16:44:43.2, 26, 2.554
30232, -38.95839, 175.75116, 1988/11/20 09:53:25.8, 224, 3.637
33410, -38.98523, 175.7814, 1988/12/23 12:40:59.3, 7, 2.18
1989
REF. LAT, LONG, TIME, DEPTH, MAG
36900, -38.96439, 175.6992, 1989/01/25 05:30:40.3, 183, 3.111
41438, -38.96921, 175.78511, 1989/03/13 12:09:37.4, 183, 3.011
64645, -38.94605, 175.69234, 1989/08/21 06:04:27.7, 80, 4.295
65783, -38.96951, 175.73994, 1989/08/27 20:15:20.1, 191, 3.075
70295, -38.95188, 175.78622, 1989/09/11 20:40:17.6, 179, 2.817
77202, -39.01096, 175.67767, 1989/10/25 01:31:17.1, 5, 2.896
77204, -39.01538, 175.71811, 1989/10/25 01:51:14.3, 5, 3.465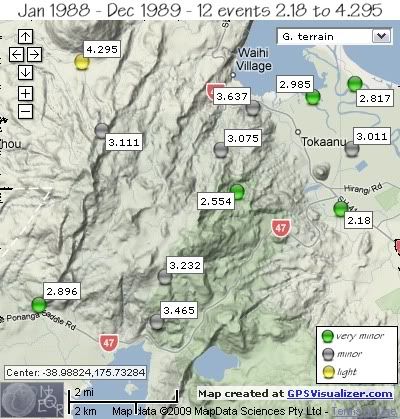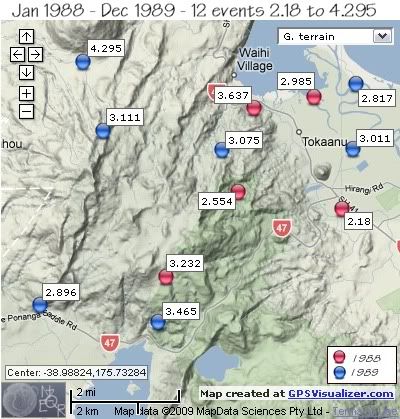 data by geonet. map by google maps. plots by highace using GPS Visualizer